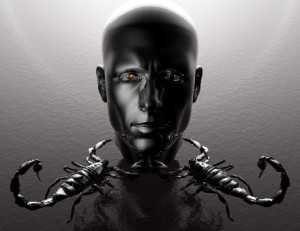 Dating a Scorpio man is anything but boring. He is an intense, passionate, ardent man and you can never go wrong when he is the one planning the night.

Don't be too conservative with your attire on your date with the Scorpio man. In fact, if you dress dull he will probably let you know about it. Instead take his breath away. He'll happily tell you how magnificent you look. Keep in mind while dressing for your date, burgundy is the favorite color of many Scorpio men. You are more intriguing to him if you dress to tease, not to show.

He is easy to seduce and likes to be pursued. Just hold a little back when it comes to giving information about yourself. Scorpio men enjoy a little mystery and even find it to be a sexy trait in women.

Avoid wearing sweet smelling perfumes on your date. Scorpio men prefer a light floral or spicy scent. Apply your makeup sparingly. Although they do love a rich, deep glossy lipstick.

You don't have to worry about running out of conversation during your date, as Scorpio men always have something to talk about. In return, show him that you have drive and ambition. Talking about a cause you believe in or a dream of yours will show him that you are an exciting person. He will admire your drive and confidence.

Due to his jealous nature, playing hard to get or making him jealous is a game you should avoid. He yearns for sincerity and honesty and will not tolerate mind games. You will have to play by his rules or leave. There are no shades of gray with the Scorpio man. They are fiercely loyal and deeply affectionate, and expect your loyalty in return.

His emotional needs can be overwhelming, and he can become hurt if his needs are not met.

You will never know exactly what your Scorpio date is thinking. Even at his most communicative moments he feels the need to hold back something of himself. You'll rarely see his emotions reflected on his frozen, immobile face.

Yes, the Scorpio man is a highly complex man and dating him can feel daunting. But When the Scorpio man falls in love, he falls deep. He is a compassionate lover, full of surprises, full of energy. Don't be stingy with affection and a devoted partner he will be.

If you are up for a challenge, the Scorpio man is for you. Hang on, you are about to go for an exciting ride!